An English Learning Success Story
Hello there beautiful people!
This week's blog is a little different than the previous ones. This week I would like to share a story. A case study about a student we had and how his mentality (and English level) changed over a year.

REMEMBER: This BLOG is intended to help learners like you learn real, relevant and meaningful English through our short but very helpful YouTube videos filled with English tips. These English tips will help you improve your English speaking skills.
Pablo's Roll your English Journey:
Pablo started with me in March 2020 (same time as the pandemic!). He was a nice guy even though I couldn't really understand what he was saying… he had a thick accent that made it difficult for him to communicate fluently. During our first session he was not really motivated to study English. He had been studying English for 4 years then, in multiple English academies and schools.
He was tired of not being able to speak English and didn't have much faith in our classes either. He needed English as he was working for the sales department in a multinational company. His hobbies were watching classical movies (The Godfather, Casablanca and Gone with the wind) and reading about new technological devices.

He enrolled in The Conversation Program. After we completed the self-evaluation he agreed to the results and we immediately started working on his language goals. The 3 areas that needed the most attention were pronunciation (4.2), confidence and motivation (4) and oral grammar (5.2) (he could write a perfect essay).

The three goals we came up with were: (He had an hour a day to devote to English)
Motivation: He had watched the above movies multiple times in Spanish. Therefore he new the context and the story lines really well. His first goal was to watch these movies now, in their original version with English subtitles. He started with The Godfather.
Pronunciation: Because he liked all things technology we chose to watch , Black Mirror, a series on Netflix, 3 times a week, about new technological findings. This series is specifically helpful because there are multiple English accents.

Oral grammar: My goal was to gradually take him through the 12 tenses of the English languages – all done through his interests and hobbies. We saw each other twice a week for 2 hours (Tuesdays and Thursdays). During the first hour of the week we would discuss his weekend and what he liked/disliked and why (skills: past tense and justification). Then we would spend the next 30 minutes talking about the Black Mirror episode he watched on Monday evening. He explained what happened (skills: past tense, reported speech and opinion). On Thursdays we would discuss his plans for the weekend, the classical movie he was busy watching and recent technological developments. As he was talking I would correct grammar, add vocabulary and teach new phrases on how to say what. After every hour he would always comment on how fast the class went! And how he ENJOYED it.

Due to work reasons, Pablo needed to pause his classes. BUT he left feeling motivated, excited and content. And the best part – he is confident and READY to speak English easily.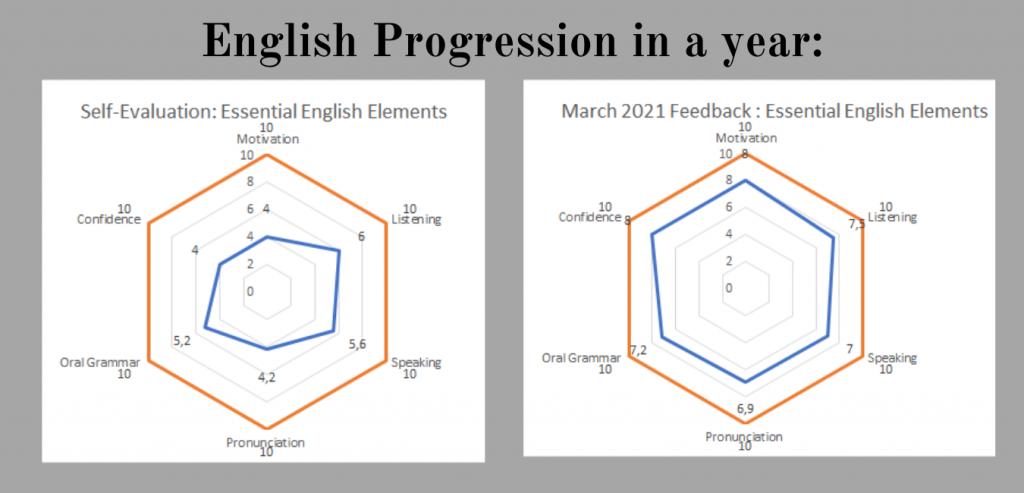 "Roll your English online academy has been very motivational and different. Their system has made me forget the boring classes and all the time (and money) I have wasted trying to learn English. From the very first class, I was able to connect learning English with my own motivations and goals. I cannot say anything but THANK YOU!" Pablo González, Madrid.


Do you ALSO need to improve your English SPEAKING FLUENCY? But feel tired, bored and demotivated? Check out the fun and effective The Conversation Program.
AND: If you need English Business classes – register for The English Business Program and become confident in negotiating, selling or presenting….all IN ENGLISH.
Have a fantastic week!
…and START or KEEP Rolling your English! 😊
Lindri and the Roll your English Team 🙂